Fourth annual Sunrise Honors recognized Phylicia Fant, David C. Magdael, Patricia Perez and Amy Grindrod
For the past four years, PRSA-LA has celebrated diversity and inclusion at its Sunrise Honors recognizing leaders across the public relations industry who continue to champion opportunities and representation for African-Americans, Latinos, Asians, members of the LGBTQI+ community, and people with disabilities.
This year's distinguished PR honorees included Phylicia Fant, Founder and CEO of The Purple Agency; David C. Magdael, President/CEO of David Magdael and Associates, Inc.; Amy Grindrod, PR Director with the Greater Los Angeles Agency on Deafness; and Patricia Perez, CEO of VPE Communications.
The morning event included an intimate chat with the honorees as well as a keynote address from PRSA National Chair Dr. Felicia Blow, APR.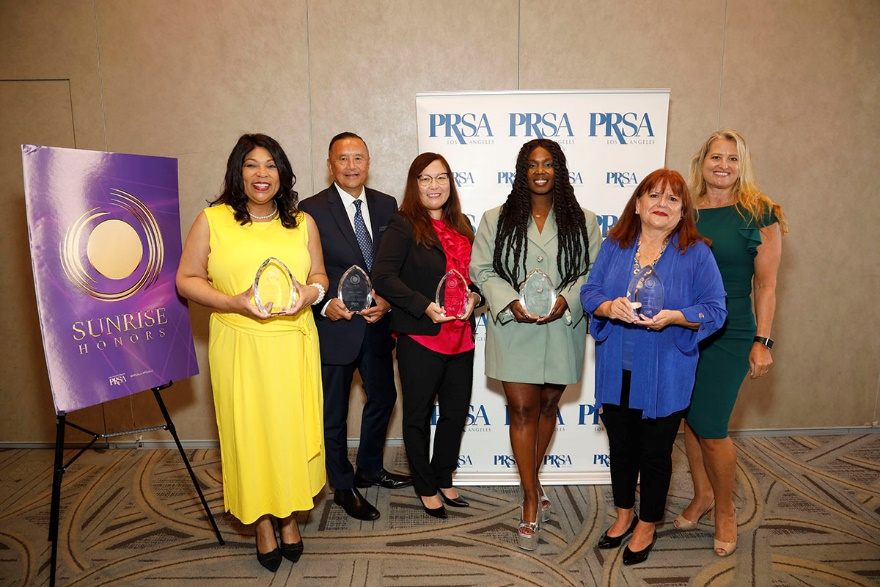 "I am thrilled and honored to be part of this year's Sunrise Honors program for PRSA-LA. Diversity, equity, and inclusion is an imperative for our association, for the companies we keep, and for us as individuals," said Dr. Felicia Blow. "By showcasing and highlighting the important work being done by these exceptional leaders, we are all inspired to move forward and continue with our mission to make communications professionals smarter, better prepared and more connected through all stages of their career."
"The Sunrise Honors have quickly turned into one of the key encounters of our association, and we are proud to see each event become bigger and better with incredible stories of achievement by the diverse community of PR professionals in Los Angeles," said PRSA-LA President Melendy Britt. "We salute each and every one of this year's honorees for their work and for their personal contributions to making Los Angeles such a vibrant and inclusive business community."
More on the 2022 Sunrise Honors honorees:
Phylicia Fant is founder/CEO of The Purple Agency.Throughout the entertainment industry, she remains not only a trusted leader, esteemed executive, and public relations and marketing magnate, but also—most importantly—as a conduit of culture. She consistently connects artists and entertainers to brands, media, film and television opportunities, and philanthropic causes. While serving as Head of Urban Music at Columbia Records, Fant architected the introduction of 21st century superstars such as Lil Nas X, The Kid LAROI, Polo G, Lil TJay, and Chloe X Halle in addition to expanding the brands of icons, including Pharrell and Raphael Saadiq. As a cultural influencer who connects artists in her role as Head of Music Industry Partnerships at Amazon Music, she transforms global synergy into meaningful cultural moments felt worldwide. Phylicia was also instrumental in the production and launch of the OWN Spotlight Documentary Eggs Over Easy andhas served as an executive producer alongside Chiquita Lockley, Keshia Knight Pullman, and D'Angelo Proctor.  Along the way, she's garnered several honors such as the Culture Creators "Innovators Award," inclusion in the Billboard 2019/2020/2021 R&B/Hip-Hop Power Players List, the Billboard 2019/2020 Women in Music Top Executives List, recognition as the Bounce Trumpet Awards 2020 Corporate Executive of the Year and was named as an XXL Hip-Hop Heavyweight. Phylicia was recently honored on Variety's Hitmaker List as well as featured in Variety: Power of Women, and with ASCAP as part of their Women Behind The Music Campaign. Phylciai is a member of the Recording Academy and serves as a Governor with The Recording Academy LA Chapter Board, Board of Directors – MusiCares Foundation, Leadership Council Member – Black Music Collective – Recording Academy, Board of Directors – Black Women Film Network, Advisory Board – Culture Creators, Executive Board – Harvard Diversity Project, and is active in a number of thought leadership communities. In 2018, she achieved an Executive Education Certificate from the prestigious Harvard Business School.
David C. Madgael is founder and president of DAVID MADGAEL & ASSOCIATES, INC, an agency that specializes in documentaries, indie films, directors, and public affairs. From developing Oscar® campaigns to festival strategies to theatrical and broadcast press unit publicity. His company boasts a client roster that includes numerous Oscar® winning and nominated documentary, animated and short films and festival standouts. His firm works with all distributors, content creators and broadcast networks along with representing award-winning directors including Morgan Spurlock, Justin Lin, Brian Knappenberger and Lucy Walker, Jehane Noujaim, Kief Davidson, and others. Magdael is a member of the Academy of Motion Pictures Arts and Sciences (AMPAS) and is the Co-Director for the Los Angeles Asian Pacific Film Festival since 1997. David serves as a mentor at the Sundance Institute Documentary Producers Lab and continues to share his expertise in panels and workshops at Sundance Film Festival, South by Southwest (SXSW), Full Frame Film Festival, Silver Docs, Hawaii International Film Festival, Los Angeles Film Festival, AFI Festival Los Angeles, Ashland International Film Festival, Film Independent Forum, Visual Communications, Center for Asian American Media, San Diego Asian Film Festival, Los Angeles Asian Film Festival, San Francisco Asian Film Festival, Indian Film Festival of Los Angeles (IFFLA), the International Documentary Association, Temple University Division of Film, The Documentary Summit at Columbia College of Film, and others.
Patirica Perez is CEO of VPE Communications, one of the nation's leading independent, Latina-owned and managed public relations agencies specializing in reaching multicultural markets.  VPE combines traditional and digital strategies to serve clients seeking to reach ethnic markets through culturally sensitive relationship-building techniques.  Personally committed to advancing diversity, equity and inclusion, Patricia's expertise is in creating social impact initiatives that advance environmental and racial equity. Her community engagement includes advocating for parks and open spaces and confronting age discrimination. She helped found and currently serves of the board of directors of the Los Angeles River State Park Partners and is the AARP California State President Emeritus, empowering people to choose how they live as they age.
Amy Grindrod is the Director of Public Relations for Greater Los Angeles Agency on Deafness (GLAD), responsible for communication, public relations and marketing strategy, brand management, stakeholder and media relations. As an experienced professional with over a decade of management, marketing and public relations experience, Amy is known for driving brand growth, maximizing market reach through exceptional strategy, management and operational performance. In her previous roles, she served as Marketing Director, Regional Director and Director of Media/PR at various nonprofit organizations. She holds a Bachelor of Arts degree from California State University, Northridge and an MBA from Western Governors University.
Previous PRSA-LA Sunrise Honors honorees include CBS Entertainment's Tiffany Smith Anoai; Bill Imada of IW Group; Gilbert Dávila of Dávila Mutlicultural Insights; Alan Acosta with the Los Angeles Gay and Lesbian Center; Rashad Robinson, Amity Paye and Rashid Shabazz of Color of Change; Zandra Zuno Baermann with We Are UnidosUS; Steve Roth of Refuge, Asylum & Migration (ORAM);. Debra Nakatomi with NakatomiPR; Kim Hunter from The LAGRANT Foundation, LAGRANT COMMUNICATIONS and Managing Partner for KLH & Associates; and Valarie De La Garza, CEO of Fenton.
The post PRSA-LA Celebrates Champions of Diversity and Inclusion! first appeared on PRSA-LA.